Chef Sean Sherman was born and raised on the
Pine Ridge Indian Reservation
, as were his parents, and grandparents, before him.
After his mother moved his family to Spearfish, South Dakota, he began working in local restaurants, and cooked all through high school and college. He also worked as a field surveyor for the forest service, a job that provided him an extensive knowledge of native plants, which would prove invaluable later in his career. He moved to Minneapolis, and continued working in restaurants, becoming an executive chef while still in his mid-20s, where he was immersed in the farm-to-table philosophy during a time when few restaurants were purchasing directly from local vendors.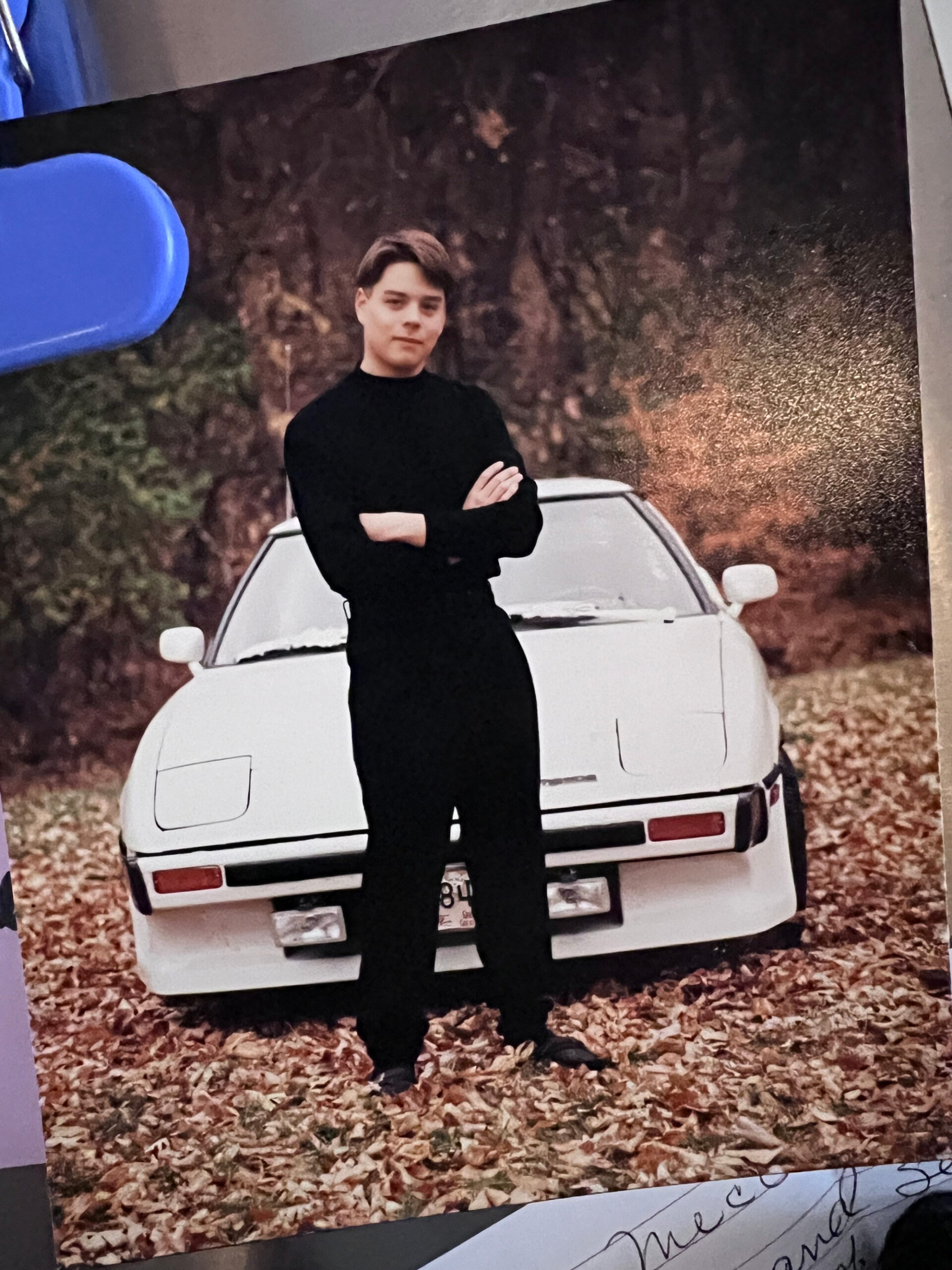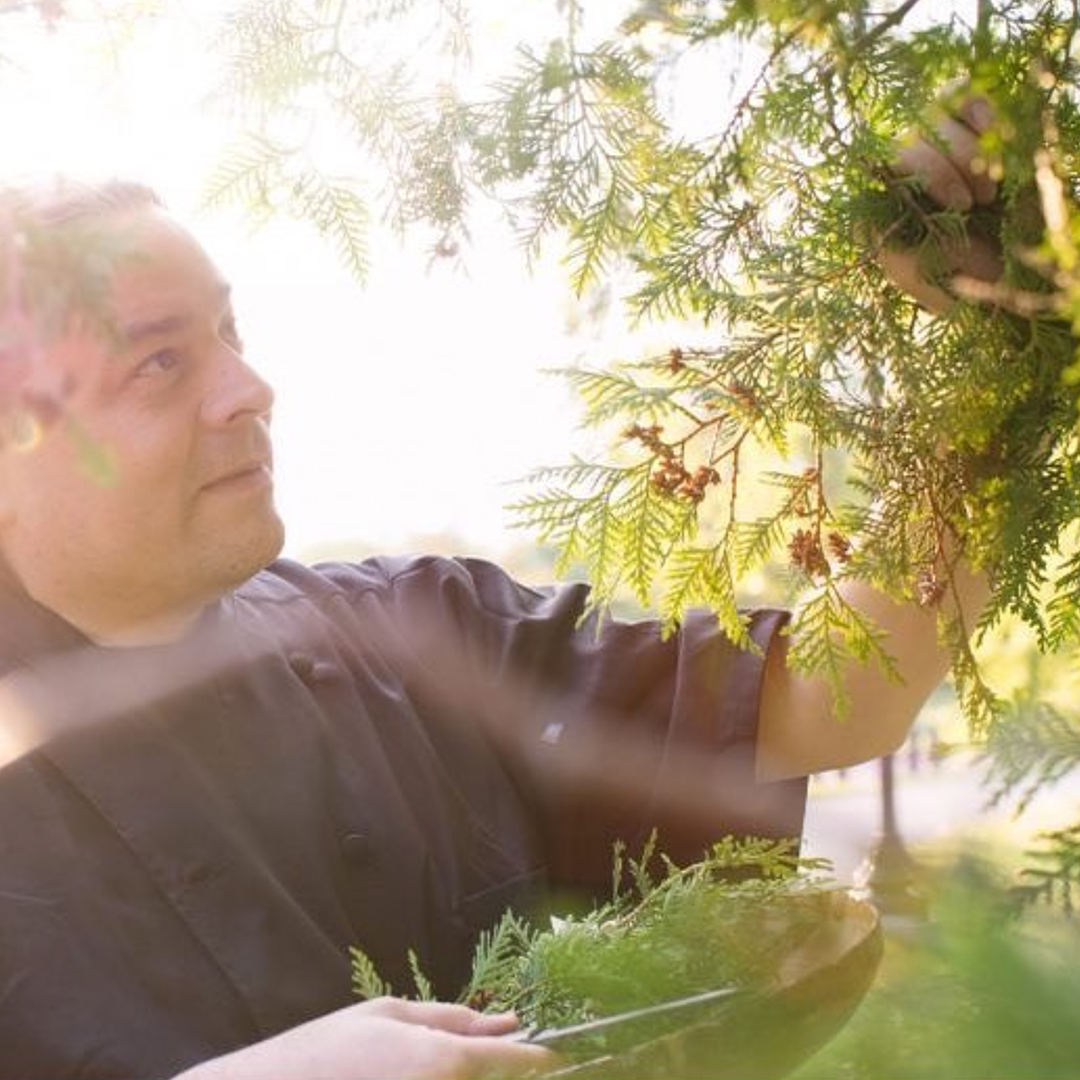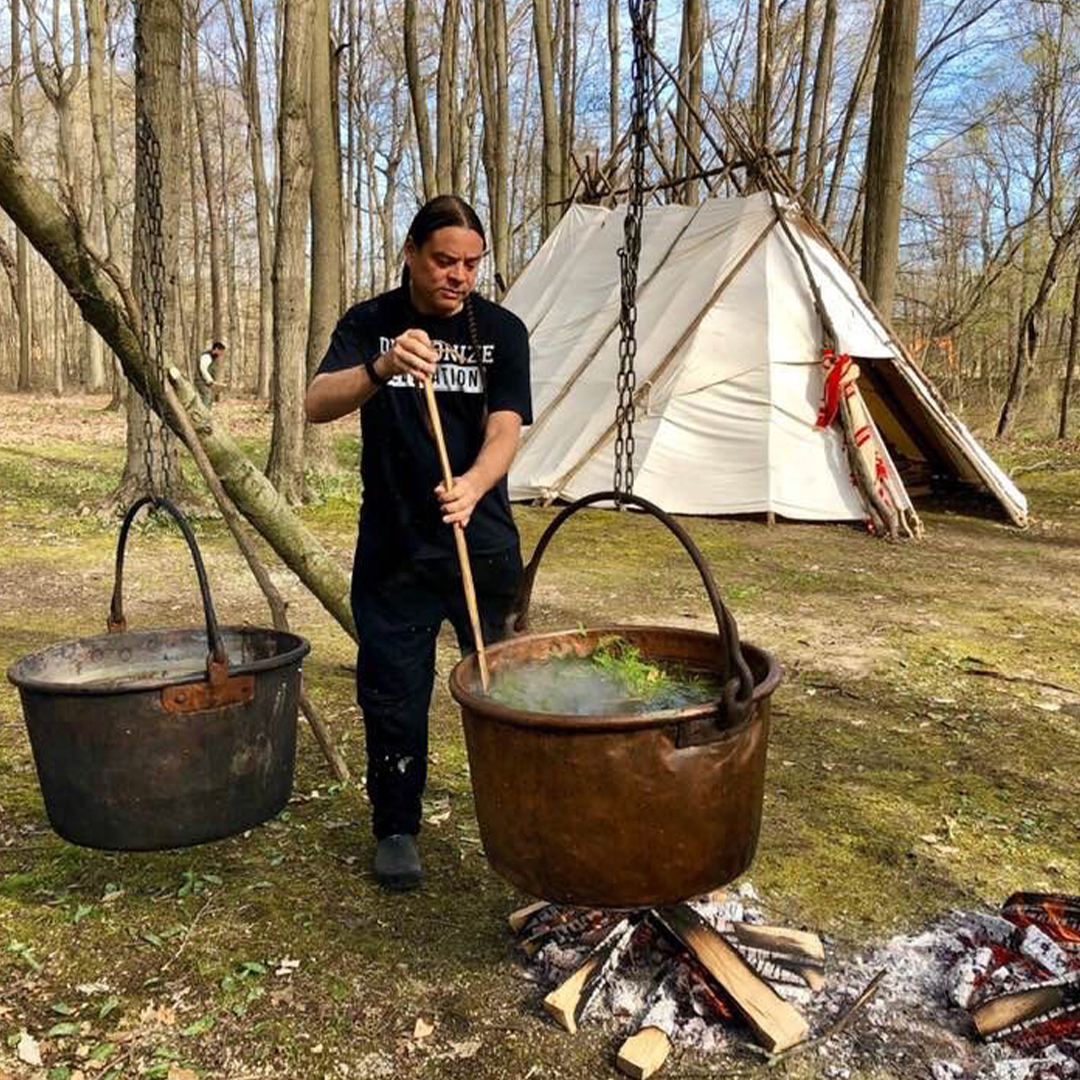 A few years into his career, Sherman had an epiphany, one that led him to his mission. He realized as a chef in a vibrant food scene that celebrated exotic flavors and far-flung cooking styles, nothing represented the land they were currently on, or what the people indigenous to this area ate. After some research, he found this was true throughout the country: there were no Native American restaurants anywhere throughout most of North America. Traditional foodways had been almost entirely wiped off the map.
This set him on a journey to discover what his direct ancestors were eating, storing, growing, harvesting, foraging, trading, and sharing just a few generations earlier. While spending time in Mexico, he observed how many Indigenous groups had retained traditional cooking techniques — using clay grills and fire, growing corn and drying and pounding it into meal, and gathering ingredients from the surrounding desert, forest or plains. He was inspired to research and reclaim the traditional cooking methods of his own ancestors, as well as the "lost" knowledge of other dispossessed Indigenous people across North America.
It was also clear the colonial diets fed to his ancestors after they were relegated to reservations were the direct cause of detrimental health impacts that disproportionately affect Native people today: type 2 diabetes, heart disease, cancer, obesity, even tooth decay. After several years of researching Native foods, he started The Sioux Chef, a company focused on creating regional Indigenous foods utilizing products from tribal producers, Native heirloom agricultural products, regionally foraged wild foods, and protein alternatives to beef, pork, and chicken. He challenged himself to cut out colonial ingredients, particularly dairy, wheat flour, and cane sugar. He also came to believe that in addition to providing comprehensive nutrition, native plants can also be powerful medicines.
"Our ancestors understood how to live in balance with the natural world. Indigenous foods are the original foods of this continent. It's important we recognize that and start celebrating those foods."
He aims to tackle the root causes of deep,persistent problems – not just apply Band-Aids to the symptoms of health disparities and economic and environmental exploitation. By reconnecting Native Americans with traditional foodways to improve health, promoting economic development, establishing food sovereignty, and preserving tribal history and culture across artificial colonial boundaries, and through development of a new food system based around cultivation and incorporation of healthy, wild, culturally appropriate, traditional ingredients and agriculture, Chef Sherman is empowering Native people to use the power of their history and culture to counter the multigenerational impacts of colonialism and dispossession, and to combat systematic cultural genocide.
Through his travels, Chef Sherman has had the opportunity to build deep connections with tribal communities, academic institutions, culinary leaders, and thought leaders from local to international. He's witnessed the varying degrees of Indigenous food knowledge across many communities and has seen the need for change apparent everywhere.
Through speaking engagements, community dinners, and culinary classes, along with social media and his James Beard Award-winning cookbook—The Sioux Chef's Indigenous Kitchen—he's been able to influence many of these communities directly to affect change. Along with co-founding a restaurant in Minneapolis, Owamni, that focuses on Indigenous foods, Chef Sherman has seen the need for infrastructure to support Indigenous foodways across the United States, North America and the globe. His nonprofit, NATIFS, and its Indigenous Food Lab, a professional Indigenous Kitchen and Training Center, are working to build and support an Indigenous infrastructure, create a center for Indigenous Education, and promote the creation and maintenance of healthy food access throughout Indigenous communities.